My Taig CNC mill has served me well for many years, and continues to perform admirably. Perhaps too well, as I always have it fixtured up for one thing or other, and as such I no longer have a CNC machine that I can just hack/play/tinker on.  The foundry class got me thinking about CNC milling foam cores, or perhaps patterns and matchplates out of wood or plastic.  This led me to think that perhaps I should build a CNC router for such work.  I say build rather than buy – gantry type routers are quite simple in construction and building a machine is half the fun anyhow.  There's many free designs available for CNC routers, so I went looking for one that I liked.  I knew I wanted something based on T-slot extrusion for ease of assembly and straightness (some warping would be almost inevitable if I were to try welding a frame out of square tubing).  After a brief search, I found a promising looking design done by cncrouterparts.com and Fine Line Automation. A 24″ x 36″ working area sounded big and roomy, and I was most impressed by the use of cold rolled steel and skate bearings for linear motion (in a similar fashion to a RepRap) rather than much more expensive linear bearings. The last time I looked at building my own CNC, I realized that the least expensive route would be to buy surplus linear bearings and rails from Ebay in whatever sizes I could manage, and then design the machine around those components. But in this case, I could follow the plans more-or-less as published – a good thing, as once I start redesigning something, I never really stop the design process, and whatever I was working on winds up with a severe case of kitchen sink syndrome.
While Fine Line Automation has kits available, I knew it would be much less expensive for me to simply get the raw materials myself and do the requisite cutting on my own. I did look around for cheaper alternatives to the 80/20 T-slot extrusion that the plans called for (many companies offer 'aluminum structural framing'), but eventually found that 80/20's garage sale Ebay store had the best prices, and they actually had all the components that the bill of material called out.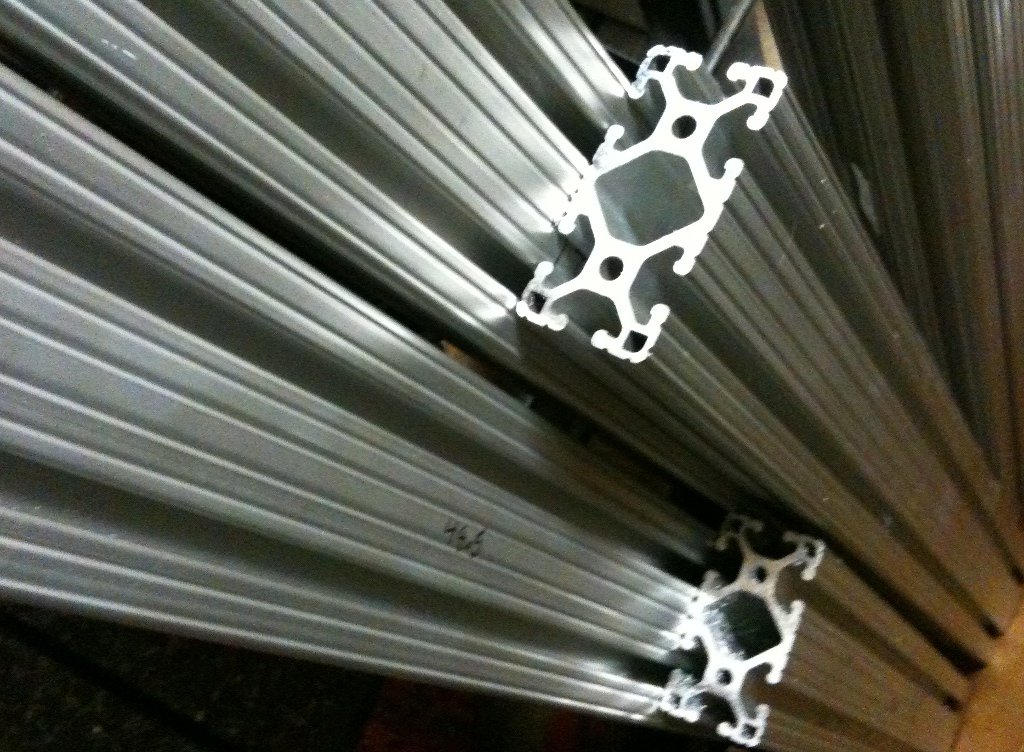 I chopped the pieces to rough length on the big horizontal bandsaw at work, and then took them home to machine the ends to the final precise lengths.  After tapping the holes in the ends to 5/16″-18 and drilling access holes in strategic locations (all detailed in the prints contained in the set of plans available on Fine Line's site), the extrusion pieces were complete. A trip to Speedy Metals netted me the cold rolled steel, which I also drilled out on the mill. With stepper motors on the way from Keling, bearings from VXB, ballnuts and ballscrews from McMaster-Carr and couplers from Enco, it seemed like a good time to at least start assembling the base.
Many of the builds that I've seen of this design include additional bracing in corners.  The framing itself is quite stout and I don't intend to do any metal cutting with the machine, but more rigidity never hurts on a machine tool, so I used some aluminum angle on the inside corners.  I ran out of screws, so the base isn't yet quite fully assembled, but at least I have a sign of progress.