First and foremost, a shout out for John Branlund's new blog: My FDM 1650. John had a broken Stratasys FDM 1650 (as well as an FDM 2000) sitting around and managed to resurrect the 1650 into a working machine (hopefully to be followed by the 2000 at some point). If you're the owner of an old FDM, his blog is an invaluable dive into the inner guts of these machines at a level far deeper than I myself have been brave enough to consider, much less attempt.
After running low on 'real' Stratasys ABS for the FDM 1600 not terribly long after acquiring the machine, I started looking around for alternate suppliers – surely there must be alternatives to paying around $125/lb. for modeling material?  I even went so far as to look overseas, and came across Beijing Yinhua Technology Co., Ltd., which has not only FDM feedstock, but also stereolithography resins. I eagerly sent them an email asking for pricing and material specifications, but got no answer.  Assuming a language barrier, I enlisted the help of a coworker who speaks Chinese natively, and he helped me compose an email to them in a tongue devoid of a latin character set.  This actually yielded a response:
ABS S301, ABS B601 and ABS B203 comparise mainly of pure ABS and other supplementary ingredient. ABS B601 and ABS B203 have melting point at temp. 245℃. ABS S301 has melting point at temp. 235 ℃

FOB Price if ABS S301, ABS B601 and ABS B203 are same: 160 USD/KG
Each cartridge include 2KGs materials
So, about $73/lb. of material.  Still way too high in my book (recall that I'm using $10/lb. for Chi Mei PA-747 ABS in 0.070″ filament as a baseline), especially figuring in the potential shipping costs.  There were also two names that I came across for Stratasys feedstock and other consumables – Sibco and Bolson. Somehow I also was referred to Argyle Materials as a source, which I contacted. The normal price for a spool of material was $325, but as they were discontinuing the standard ABS material in favor of the ABSmax (said to be equivalent to the Stratasys ABSplus), they'd give me a deal of only $100 each for the last two spools of standard ABS that they had as a closeout price. I pondered this for a week or two, and then finally decided to go for it. I called them up, gave them my credit card information, and then waited. Every day afterward, I expected to see a brown cardboard box on my doorstep when coming home. I kept this up for 2 months, figuring that it must be tied up in customs. Eventually, I realized it just wasn't coming, so I called up Argyle and Kyla was able to provide me with a USPS tracking number that eventually resolved to saying that the package had indeed been delivered, only 3 days after it had been shipped. I brought the tracking number to the post office, asking if there was any manner that they could check into it, but it wasn't hopeful. They gave me the phone number of the main office that I could contact in order to seek 'restitution', but they told me that I was SOL.
Then, when I came home on Tuesday, there was one of those salmon colored 3×5 cards in my mailbox that the postal carrier leaves when a package needs a signature or somesuch.  On the card was the very tracking number I had inquired about, and a rather excited note saying "this is the one you're looking for!"  Sure enough, I stopped by the post office on my way to work the next day, gave them the card, and they were able to present me with the prodigal package.  Major kudos to Kyla @ Argyle for providing me with tracking info, and to my local postal workers who somehow managed to find the missing package.
Before giving the new material a try, though, I had 2 more platform materials to test out with the NIP ABS.  Home Depot has both acrylic and styrene sheet available, so I bought a piece of each.  I've seen acrylic mentioned in RepRap heated build platform discussions (and some UP! users are now simply spraying clear acrylic on their platforms rather than using the green brush-on paint), so it was worth a shot.  Since high impact polystyrene is what the Stratasys breakaway support material consists of, there was a possibility that plain polystyrene would adhere nicely to the hot ABS.
First up was the acrylic:
Adhesion is really good between the ABS and acrylic, but precise Z axis deposition is required.  Were I running a single small piece at a time, this would probably be just fine, but trying to maintain the build base level to within a few thousandths of an inch across a 10″x10″ area requires a bit more attention, and I'm not about to go planing down the Garolite sheet when thermal stress might ruin all such work anyhow.
Well, let's see how the polystyrene sheet fares:
You can just barely see the faintest hint of the first layer of the part on the styrene surface to the left of the part itself.  It apparently adhered well enough to complete perhaps half the part, and then broke loose.  This was the 'anti-glare' side of the styrene sheet, which I figured I'd try first, as the protective plastic film stuck to this side much more than on the glossy side (potentially an indicator of molecular attraction, I thought).  Admittedly, I have not yet tried depositing the NIP ABS onto the glossy side, but I'm not expecting much after this.
So much for Chi Mei PA-747 – I was ready to load on some of the Bolson material and see how it extrudes onto the styrene.  After loading it into the machine, I extruded a few feet out of the nozzle and checked the die swell.  It measured to be around 0.0155″ – not quite the 0.017″ of the Stratasys P400 material, but certainly closer to it than the 0.013″ of the PA-747 ABS from NIP.  I was also getting a persistent 'FILAMENT OUT' error on the keypad, which meant that the photoeye wasn't seeing the filament anymore, and the machine assumed that it had run out.  Opening up the dry box, I had a look at the photoeye arrangement for the first time, as I hadn't needed to mess with them previously:
Happily, they turned out to be Omron SPY series photoeyes, which I had experience with years ago when I retrofitted various paintball guns with them.  Just as in the past when they had difficulty sensing dark shelled paintballs (the photoeye emits IR light and looks for this light reflected from the target object), the black ABS reflects little in that wavelength.  Loosening the mounting screws and bringing the photoeye just a little closer to the filament fixed everything (you can see a little bit of red glow from the indicating LED on the nearest photoeye, showing that the photoeye is detecting something).
I made sure to run the nozzle tip right down to the surface of the styrene and ran a 0.007″ slice height part halfway through so I could have a good look at the infill: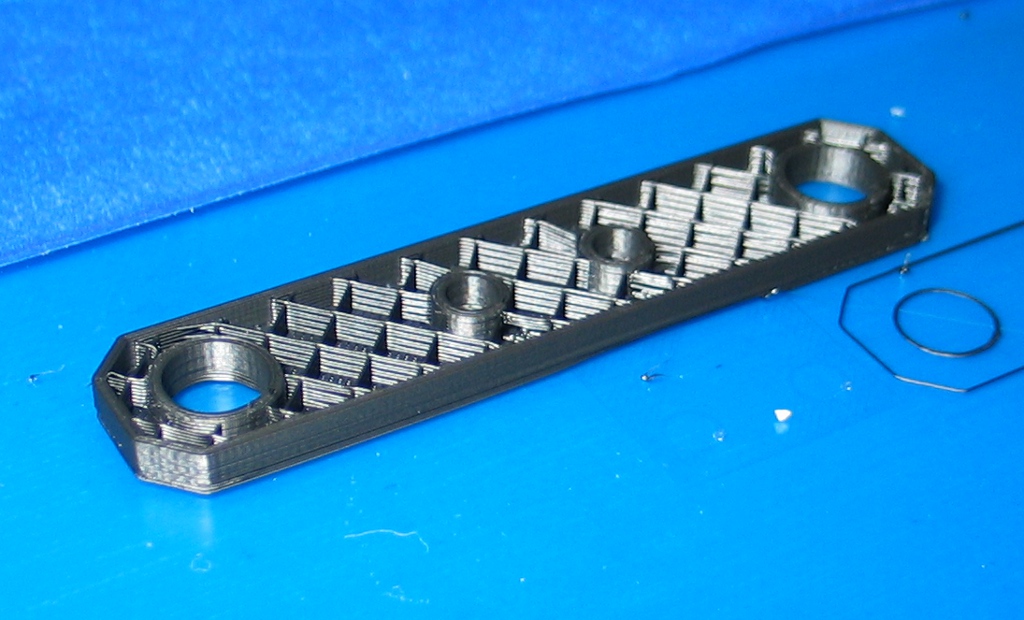 Nifty – so how would the Bolson material run on blue painters tape?  Even more, is the die swell sufficient to keep the infill from drooping when using a 0.0201″ road width?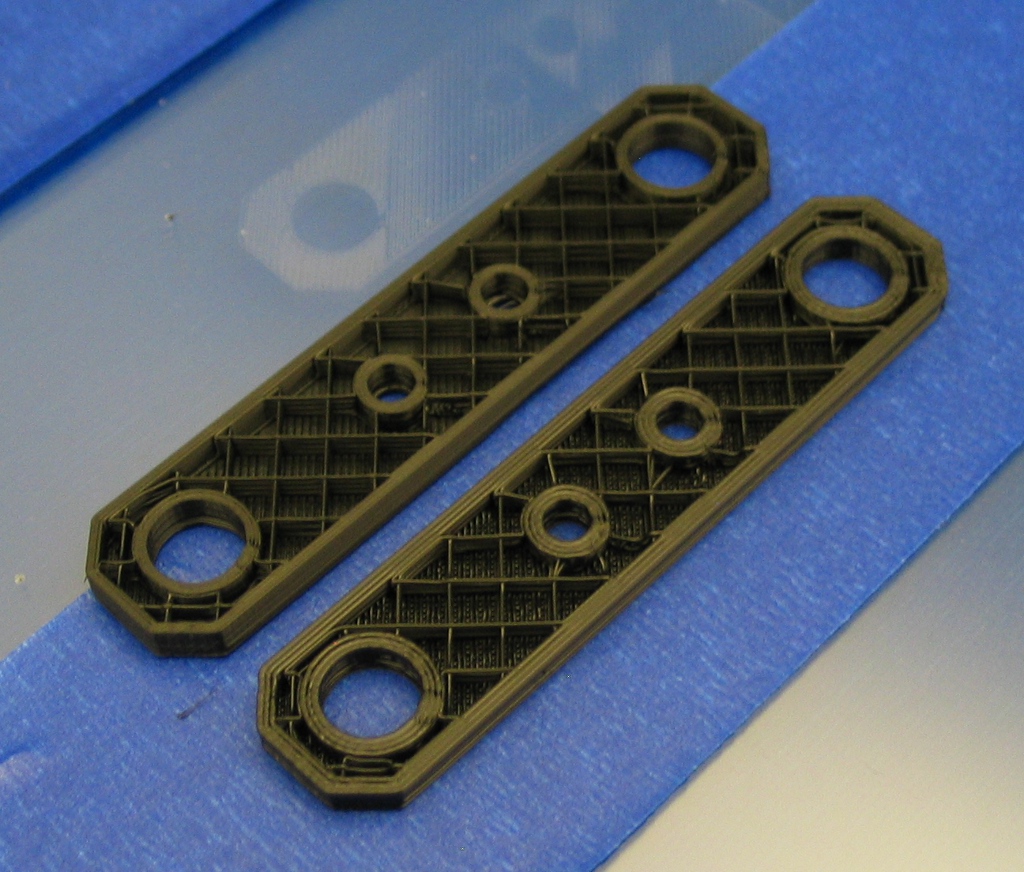 Just as with the NIP ABS, the Bolson ABS had good adhesion to the tape, but was readily removed.  I'm very happy with the results – for my needs, the Bolson material is as good as the OEM P400 ABS.  However, should anyone be considering using the Bolson material in a commercial capacity, consider the decision carefully.  I spoke to a Stratasys Dimension user who is part of the RepRap project, and they were less-than-thrilled with the Bolson materials (given that Bolson regards their material to be equal in every way to the OEM material).  He noted that IR spectroscopy found that the Bolson material was not identical to Stratasys P400 or P430, had poorer layer-to-layer bonding, did not adhere to the support material as well on larger parts, and simply did not provide full part strength.  Given that the Bolson material is still darned expensive (depending where you get it from, it's probably 80% of the price of the OEM ABS), it certainly is not worth using in a professional capacity (especially since use of third party materials is an instant warranty voider).  But if you're a crazy hobbyist with an old FDM, have no fear – this stuff is far beyond the plastic welding rod ABS that most RepRappers are using.  If you can nab a spool on the cheap, you should have no regrets.
As good a deal as it was, $100 for 2 lbs. of Bolson material is a little more than the price for UP! filament, and five times the price of PA-747 from NIP.  There must be a better source.  I finally bit the bullet and gave Ashland Distribution a call, as they are a major distributor of not only SABIC ABS, but many other companies and polymer types. After bouncing through various customer service reps, I finally was contacted by a local salesperson who was extremely helpful.  Of the 5 grades of SABIC ABS that I was interested in (MG94, MG34LGHF, MG34LG, MG8000SR, and MG47), it turns out that MG94 and MG47 are common 'workhorse' grades of ABS for injection molding, and getting them should be no problem.  I'll have to pester him about the other 3, but since MG94 was my primary interest, I'm good for now.
Even better, he was able to get me sample quantity pricing for MG94 and MG47 – a 55lb. sack at the 550lb. price!  And to top it all off, he gave me contact information for two different local plastics extruders who would probably be able to run the raw resin into 0.070″ filament for me.  I visited both of them on Friday, and after having a look at the material specifications, both said they could handle it.  They differ a little in terms of setup and die charges (which will run me a good bit more than the sample resin itself), but at least it's possible.  There's one or two other extruders that I need to check with for pricing, I need to see what Ashland has in the way of injection molding grade HIPS, and I need to find a source for wire welding spools (the 2″ hole diameter is just what's needed for the Stratasys).