I intended to post this a few months ago, but the old server had simply gotten too rickety to cope with new posts, much less OS or WordPress updates.  So I opted to roll an entirely new VM with an OS version published this decade.  Hopefully previous posts imported properly, but the site may be a work-in-progress for a while.
A friend's all-in-one Namco joystick had broken, and they wondered if I might be able to fix it.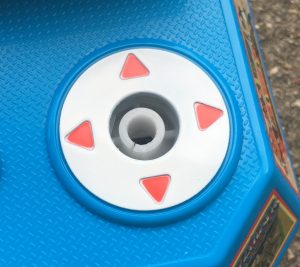 The issue was that the bushing that the joystick shaft is pressed into had split.  Since it looked to be Nylon, my guess was that just trying to glue it back into place (even with epoxy) would not last long as a fix.

While the manufacturer is still in business (though on a different URL), their site doesn't appear to have any mention of this particular unit.  I wasn't really expecting to find an exploded diagram and parts ordering form anyhow, but once in a while pleasant surprises pop up.  Not so in this case, so time to wield Phillips screwdrivers with careless abandon.
The joystick mechanism looks to be secured under that square base plate.
This turned out to be a far more complex mechanism than I had anticipated.  It wasn't until I gave the unit back that I learned that this is due to the Pole Position game using joystick twist for steering instead of normal left/right movement.
My plan was to find some thinwall stainless or brass tubing to sleeve the outside of the bushing and thus collapse down the split section.  I didn't have much luck in finding an appropriate size tube in the McMaster-Carr catalog, however.
No big deal when you have machine tools, though!  I found a piece of scrap stainless rod, faced the end, and drilled a shallow hole with a W size drill bit (0.386″, which is just the size of the bushing's outside diameter).  I then thinned down the outside until I reached a point of 'that looks about right'.  This turned out to be a wall thickness of around 0.017″ which I hoped would be thin enough to retain full movement of the stick.
After parting off the ring, I did a little light deburring.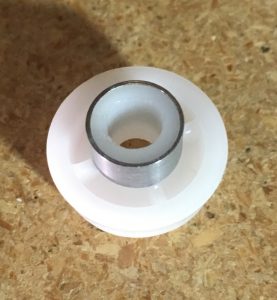 The ring pressed snugly into place on the bushing, and the crack is practically invisible now.
I carefully hammered the joystick shaft back into the bushing when done.  Interestingly, the end of the shaft has both splines and ridges to keep it from pulling out and from twisting – that should have been a clue to me regarding the twist operation.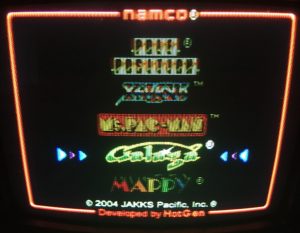 A few games of Galaga verified that operation is back to normal!